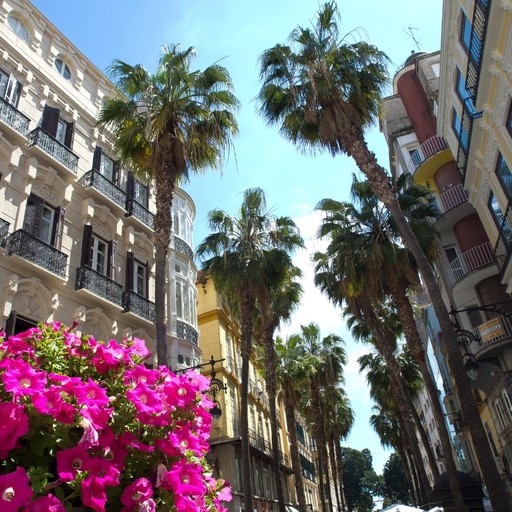 Mediterranean climate, wonderful architecture and captivating culture are the main attractions for people buying a property on the Costa del Sol. We explored nearby areas within a maximum of 1-2 hours by car for you. Check our list of top places to visit while exploring the region.
RICH SURROUNDINGS WITHIN 2 HOURS DRIVE BY CAR

Mediterranean climate, wonderful architecture and captivating culture are the main attractions for people buying a property on the Costa del Sol. We explored nearby areas within a maximum of 1-2 hours by car for you. Check our list of top places to visit while exploring the region.

VISITING MALAGA

The Andalusia area attracts more and more visitors captivated by its 200 km of sandy beaches, and also by the historical city centre itself. In the last few decades, nearby holiday destinations in Malaga have been full of tourists looking for the sun. It has a pleasant climate all year round, so visiting Malaga is an excellent idea for a day trip or even a longer stay.

The city is now popular mainly thanks to the world painter Pablo Picasso, who was born here. You can visit his birthplace or a museum, which houses more than 200 pieces of his art works. On your wanderings, you can also come across the famous actor Antonio Banderas, who is from Malaga and likes to return to his hometown several times a year.

Plaza de la Constitucion is the heart of the city, surrounded by shops, cafés and restaurants. The marble Genoa fountain from the 16th century magnetizes tourists and locals with its elegant features. Traditional events and celebrations take place in the square next to the main pedestrian street (Marques de Larios). To spend some time in the square and watch the bustle of the city, visit the Central Malaga café, where you can enjoy morning coffee and a traditional Spanish breakfast of "tomato on toast with olive oil" called "pitufo".

Malaga Cathedral – the first thing you notice when standing in front of the cathedral is one of the unfinished towers. For this reason, they call this Roman Catholic church "La Manquita" – "One-Arm Lady". The cathedral has predominantly Renaissance elements, but its main façade follows the Baroque style. 

Marina in Malaga – walk along the Parque de Malaga and watch the exotic tropical plants and palms around you. It's like a green oasis in a city full of fountains, statues and playgrounds. The park will allow you to enjoy nature with all the peace and beauty.

El Pimpi is the oldest tapas bar in Malaga. It has still retained its unique charm, which also attracted the famous Tony Blair and Antonio Banderas. Look for their signatures on the barrels! The busy atmosphere filled with a touch of history and green flower pots make the terrace a beautiful colourful garden. El Pimpi is just a few steps from the Picasso Museum, so it could be the perfect place for lunch at noon. El Pimpi can be busy during major celebrations and weekends because of the festivities in the evening, so it's better to make a reservation in advance.

DAY TRIP TO ALHAMBRA

The jewel of southern Spain is majestically located on top of Al-Sabika near the Sierra Nevada ski paradise. This elegant palace, fortress and gardens are worth a day trip. Its architecture is stunning so you will not regret this. You can spend hours exploring and soaping the beauty and history of the Alhambra.

DISCOVER MIJAS - A CHARMING VILLAGE ON COAST OF THE COSTA DEL SOL

If you have visited Costa del Sol in southern Spain, but haven't heard of a typical Andalusian village called Mijas, you are missing out! Mijas is a charming white village set in the mountains, just half an hour's drive from Malaga. Mijas is one of the most beautiful villages in the region with impressive landscapes.

Mijas consists of several areas such as Mijas Costa, La Cala de Mijas, Las Lagunas and the beautiful village of Mijas Pueblo located on a hillside. Mijas Pueblo is a relatively small village to explore with typical narrow Spanish cobblestone streets decorated with pots. You will also find some historic museums, churches, squares, small parks and donkeys that can take you around the village.

PUERTO BANUS IS A SHINY JEWEL OF THE COSTA DEL SOL

Marbella is a luxurious place on the Costa del Sol with a glittering diamond, the port of Puerto Banus. This place is not only for rich and influential people, Puerto Banus is set in a coastal village and preserves the original, distinctive Andalusian architecture. By contrast, exclusive high-end stores such as Dolce & Gabanna, Hermes, Louis Vuitton, Michael Kors, Bvlgari, Versace, Christian Dior, Gucci and many others are located right in the streets behind the old town. (These luxury brands can only be found in Puerto Banus, you won't find them in Malaga.)

Next, you'll see luxury yachts, which are owned mainly by Arab, European millionaires and international celebrities, who often take summer breaks in the region. During the summer months, you can see someone from the lavish celebrity world.

There are a huge number of restaurants with international cuisine and bars for all kinds of budgets, but generally at high prices. (Parking is relatively expensive near the port.)

At night, well-dressed visitors and locals gravitate towards the harbour, looking to enjoy the sparkling atmosphere of Puerto Banus and head to restaurants, bars and nightclubs searching for fun. They will arrive in expensive cars such as Ferrari, Lamborghini, Rolls Royces, Mercedes Benz, BMW and turn the port into a lively car tour scene full of all luxury brands. Location: Puerto Banus is only 6 km (3.7 miles) from Marbella.

ENTER THE FAIRY TALE IN BENALMÁDENA - CHRISTOPHER COLUMBUS CASTLE

Even from afar, Castillo Monumento Colomares will instantly enchant you and awake your curiosity.  This castle was originally built as a monument in honor of Christopher Columbus' journey to discover America. The whole project was carried out by an American doctor who designed the monument.  By walking through the castle, you will get an overview of the life and adventures of Christopher Columbus.

ADVENTURE AWAITS YOU ON THE ROCK OF GIBRALTAR

Do you want to see monkeys? If you answered yes, Gibraltar is the perfect place for you to go on a trip. Where else in Europe can you see wild monkeys, except Gibraltar? The colony of Makak Magok monkey settled here on "The Rock". From there it's just a few steps to nearby Morocco. Gibraltar, up to this day an English colony, has a few rarities. We mentioned the first one – monkeys. Secondly, by entering Gibraltar, you will find yourself right at the border. After crossing it, find yourself at a traffic light. Intersection? Yes, but... not so ordinary. This is not only for cars, but also for planes. Welcome at the airport .

Walking through the city centre reminds a lot of walking through the streets of London. Unfortunately, you won't find the London Eye or Tower Bridge here,but you will be able to spot red telephone booths and fish&chips restaurants all around. By the way, Gibraltar is free of taxes or VAT . Ladies, I'm sure you know what it means. 

THINGS TO DO IN SEVILLE OVER THE WEEKEND

"Anyone who hasn't seen Seville doesn't know what a miracle is." A phrase, or is it really like that? Seville is the fourth largest city in Spain. Wandering the streets, you'll come across Seville Cathedral, home to the tombstone of America's discoverer, Christopher Columbus. From here you reach the Giralde – the former minaret of the old mosque and now the cathedral's bell tower. From a height of 70 meters, you can enjoy panoramic views of this picturesque town. You'll see the Alcazar Royal Palace, the Torre del Oro Tower, and you'll end your wanderings in the city at plaza de Espana – one of Spain's most beautiful squares.

TARIFA AND SURFERS

The southernmost point of the European continent, the magical place where the Mediterranean Sea meets the Atlantic Ocean, is Tarifa. A paradise for surfers and Morocco at your fingertips.

While Marbella and Puerto Banus are known as charming, cosmopolitan havens for beach club and champagne lovers, in many ways the seaside town of Tarifa is the opposite. Just over an hour's drive from the lavish boutiques and elegant restaurants on the Costa del Sol, Tarifa is a kind of pristine bohemian paradise, popular mainly among artists, writers, hippies and surfers. This is where you will see many handmade trinkets, designer jewelry and also a beautiful nature.

Tarifa's old town is small, but it's nice to explore – it's full of little shops, cafés and restaurants – but head a little west out of town and you'll reach the famous White Sands Paradise full of surfers.

A little further on the way to the city of Cadiz, there are other popular coastal villages such as Bolonia, Zahara de los Atunes, Caños de Meca, El Palmar, Conil and Sancti Petri.

Of course, if you don't like the wind, Tarifa may not be for you. It is world famous for windsurfing and kitesurfing and is always very windy.

TIME TO DISCOVER NERJA

Nerja is a small fishing village in southern Spain, about an hour's drive from Malaga to the east coast. It is a charming village that hides some historical murals in its famous Nerja caves. The Romans, then the Moors, left behind their cultural footprints, that are definitely worth seeing.

VISIT FRIGILIANA, THE HIDDEN JEWEL OF ANDALUSIA

The area of Andalusia has many charming white towns, but Frigiliana is among the most beautiful. It was even appointed "the most beautiful village in Andalusia" by the Spanish tourism organisations. If you've never heard of this extraordinary city and its legacy, this is the time to explore more. Frigiliana is located on the mountainside, just 6 km from Nerja and 70 km from Malaga, surrounded by a nature park.

WHAT TO SEE IN CORDOBA, SPAIN

The city of Cordoba is a popular tourist destination and has been part of UNESCO since 1984. The city has the famous Mezquita Mosque, one of the most remarkable buildings in the world. It combines architectural treasures of several eras, including Greco-Roman and Egyptian era. It is also a dazzling symbol of fine Moorish architecture. In addition to the mosque, which is visited by several thousand tourists a year and is one of the main landmarks of the town in Cordoba, you can also enjoy the view of the Alcázar fortress. Its palaces were once home to medieval rulers.

DISCOVER RONDA HIDDEN IN THE MOUNTAINS

Ronda je zasazena na vrcholu hory a dělí město strmou roklí. Fotografové už jistě slyšeli o Rondově slávě "Puente Nuevo", známé jako "Nový most", kterou chce každý vidět a obdivovat. Arabská éra zanechala na Rondě stopy, stejně jako v mnoha jiných vesnicích a městech na jihu Španělska, které také mnoho z nás uchvacují. Ronda se také stala známá svými slavnými býčími zápasy na konci 18. století. Byla inspirativní pro romanopisce, jako je Ernest Hemingway, filmaře, dokonce Giorgio Armani, známý italský módní návrhář byl požádán, aby tady navrhl kostým pro býčí zápasy zvané "Goyesco".
---