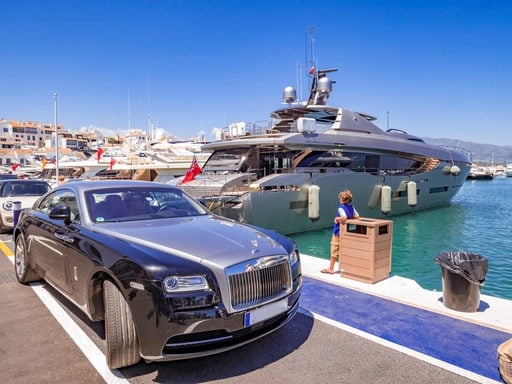 Puerto Jose Banus, in short Puerto Banus, is a port 6 kilometers southwest of Marbella, near the costa del Sol suburb of Nueva Andalucía.
Puerto Jose Banus, in short Puerto Banus, is a port 6 kilometers southwest of Marbella, near the costa del Sol suburb of Nueva Andalucía.
WHY MOVE TO PUERTO BANUS?
Puerto Banus, nicknamed Andalusian St Tropez, is a mecca for the rich and famous and is home to one of the largest luxury shopping malls in Spain.
José Banús was a developer who built Puerto Banus to look like a traditional Andalusian village and port. The inaugural party in 1970 had a guest list of international influences, such as film director Roman Polanski, Playboy Hugh Hefner and Prince Rainier, and Princess Grace of Monaco.
Today it is a modern luxury port with 915 beds and super yachts parked here. The streets are full of celebrities and luxury cars, expensive fashion boutiques and exclusive restaurants. Visitors flock to Puerto Banus beach clubs. All-day bars serve cocktails and champagne to people sun-bathing on sun loungers along the beach.
On the west side of the harbour is Mistral Beach with a club and chiringuitos serving traditional seafood. On the Nueva Andalucia side is the blue flag beach at Playa de Levante (or Puerto Banus Beach), with water sports opportunities and Levante beach club. Nagueles Beach is a short walk away, with Marbella Club, Puente Romano Tennis Club and Michelin-starred restaurant by chef Dani García.
Puerto Banus is in the center of the Costa del Golf, and golf enthusiasts can enjoy Monte Paraiso, Golf La Dama de Noche, Aloha Golf Club, Las Brisas Golf and Las Naranjas Golf Clubs nearby.
POPULATION
Spaniards make up about 30% of the population. Another 70% are British, Scandinavian, American and Arab.
ESTATE
The south side of the harbour is flat and conveniently located within walking distance of the busy shopping district. However, the properties on this side are rare and fabulously expensive, especially if it offers undisturbed sea views. The main luxury villas have apartments. In the north there are mountainous residential areas with houses that are more suitable for families. These are often better price/performance ratios and have common facilities such as tennis courts, heated pools, shops and restaurants.
PUBLIC FACILITIES
The streets are lined with upscale boutiques selling everything from Christian Dior to Bang and Olufsen. Antonio Banderas square has the huge El Corte Ingles department store, which includes the upmarket Hipercor hypermarket. There are plenty of amenities for international residents of the area, from Waitrose food to English speaking cosmetic dentists.
TRANSPORT
Malaga Airport is 60 kilometres away, and Puerto Banus can be reached by taxi or (through the centre of Malaga) by bus. If you driver by a car, you can reach the city either by taking the road A-7 or the coastal road N-340 – a longer but more scenic route. There is an extensive bus network connecting Puerto Banus with neighbouring towns and rural areas.
EMPLOYMENT
Marbella is one of the best regions in Spain where you can find a job if you speak English. From construction to childcare, there are many options available to bilingual speakers, including management, security, commercial sales and teaching.
PUBLIC HEALTH
The San Pedro De Alcántara Health Centre on Calle Príncipe de Asturias is an excellent place to seek national health care. There are also plenty of private medical facilities, including Helicopter Hospital Health, a small hospital using helicopter emergency vehicles.
EDUCATION
International schools include the prestigious Swans College, The American College in Spain and the Mayfair International Academy. There are also plenty of public schools, especially around the urbanization of San Pedro de Alcántara.
COST OF LIVING
The cost of living in Marbella is high, but wages can reflect that. House prices are similar to those in northern Europe, but public service and transport costs remain low.
---