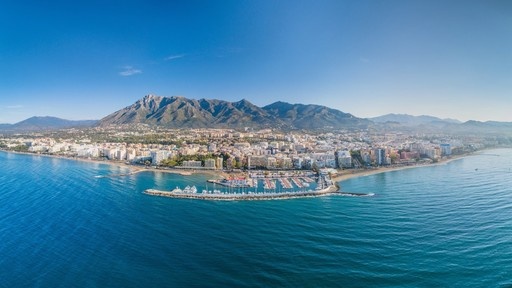 The largest and most charming resort on the Costa del Sol, Marbella has unrivalled beaches, beautiful scenery and a true Spanish soul.
The largest and most charming resort on the Costa del Sol, Marbella has unrivalled beaches, beautiful scenery and a true Spanish soul.
WHY MOVE TO MARBELLA?
With its cosmopolitan confidence, Marbella has been Spain's most sought-after resort for more than 50 years. Marbella may be elegant, but it's not exclusively for the rich.
Marbella, popular for its charm, golf and golden mile of hotels, clubs, and casinos, is popular for a good reason. Protected by coastal mountains, the average annual temperature is 18 °C and the city has amazing views of the sea and mountains.
And there is still a lot of the original beauty of the city in the old town. Walk through immaculate streets, upscale shops and classic Spanish churches to find the soul of old Marbella's Plaza de los Naranjos (the Square of the Oranges). On hot summer nights, it turns into a buzzing open-air restaurant: just sit back and soak up the atmosphere.
POPULATION
In Marbella, you'll be blending in with an wide range of nationalities. Over 40,000 people of the 142,000 population come from 127 different countries. Together they are known as "Marbelleros".
PUBLIC FACILITY
In addition to the sea (the beach has 16 miles with four ports), golf courses (15) and restaurant (600), Marbella is known once again for shopping. There are countless designer shops and jewelry stores to check out, as well as hypermarkets, specialized grocery stores, accessories stores, interiors... you won't run out of places to spend money at!
TRANSPORT
Marbella has a reliable bus service that takes you on the A7 motorway, which connects you to the nearest airport in Malaga and all the cities on the Costa del Sol.
EMPLOYMENT
Marbella is the most dynamic city in Malaga province for business, representing 14% of the region's trade. You'll find most of the jobs in the service economy, while real estate and construction are also thriving.
ESTATE
On the golden mile of the city with its rich villas and farms you will find plenty of real estate opportunities, from expensive to astronomical prices. But don't despair, more affordable apartments are available in construction along the coast and in mountainous areas.
PUBLIC HEALTH
If the four golf courses followed by a five-course lunch are not enough to keep you at the peak of your physical fitness, you will find access to health care very straightforward. The region's main source, the Costa del Sol Hospital, is located near the city and is one of the best equipped in Spain. In addition, you can choose from private hospitals, specialist clinics and many alternative therapies.
EDUCATION
Marbella has no fewer than ten international schools to choose from, including a British school, a German school and a Swedish school.
COST OF LIVING
As you might expect, Marbella is a lot more expensive compared to some of the neighbouring resorts. However, the number of retail outlets will help you keep your weekly budget at a good level.
---