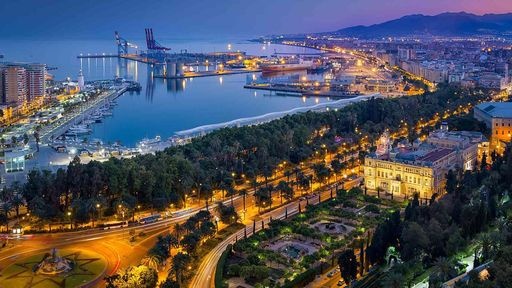 The capital of the Costa del Sol and the province of Málaga, this Andalusian city is the southernmost in Europe.
The capital of the Costa del Sol and the province of Málaga, this Andalusian city is the southernmost in Europe.
WHY MOVE TO MÁLAGA?
Málaga is not only a gateway to the Costa del Sol, it's also full of art, historical monuments, modern shops, beaches and provides some of the best restaurant experiences in the world.
This port city has undergone a reconstruction in the last 20 years. With the opening of the Picasso Museum in 2003 (Picasso was born in Málaga), there was an influx of public money spent on cultural expansion. From MAUS (Málaga Arte Urbano en el Soho) in Soho to the new Centre Pompidou in the luxurious Muelle Uno Porto, it's a feast for the eyes wherever you turn.
In Malaga, you can find plenty of high-end restaurants, vintage clothing stores, boutique hotels, rooftop terrace bars, and a generally cosmopolitan atmosphere thriving into the night.
Then there's the more traditional part of the city. Alcazaba is a Moorish fortress attached to the ancient walls of the city. There are 15 beaches, all lined with Chiringuitos – a traditional beach restaurant where you can grill on the sand. Locals are nicknamed boquerones (anchovies) because of the number of anchovies they eat, and there are many tapas bars, ultramarinos (traditional grocery stores), street and covered markets selling rich local produce. The pleasant climate all year round makes it a great city for outdoor events. From street performers to big-city festivals, there is always something to do.
POPULATION
The city of Málaga has more than 1 million tourists a year, many of them arrive between June and August. Tourists can expect party lifestyle, good food and multilingual chatting most of the year, with a particularly busy summer.
ESTATE
With a city modernization came higher property prices in the center of Málaga. Fortunately, there are interesting neighborhoods where you can still find affordable housing, for example, the Teatinos university district is popular among students and young families. The city centre typically offers housing in apartments, while villas and villa-houses are available in the suburbs.
PUBLIC FACILITIES
Málaga is great for shopping. The pedestrian area of Calle Larios has hundreds of international shops on the street, while Muelle Uno has design boutiques. The Málaga branch of El Corte Inglés is full of Spanish fashion, home goods and a good supermarket. Many regions have local recreational facilities, banks and postal services.
TRANSPORT
Málaga Airport has flights to more than 60 countries around the world. From the airport you can get to the city by train (8 minutes), express bus or taxi. Renfe train service runs outside María Zambrano station, and you can travel almost anywhere in Spain. Málaga – Madrid is just two hours 45 minutes by fast AVE train. You can also catch a local train from Málaga to Fuengirola, and there are buses to the city centre and suburbs.
EMPLOYMENT
If you do not work for an established company or in the professional sector, short-term contracts are available, mostly by working in the bar and restaurant.
PUBLIC HEALTH
Málaga is densely packed with doctors in clinics or in private practice, seven of which advertise English language services. There's a well-respected maternity hospital, medical school and several hospital places all over town.
EDUCATION
In Málaga there are hundreds of options for school-age children, you will find local Spanish public schools in individual districts and international schools dotted along the coast. St Georges school is located in the city centre.
COST OF LIVING
Living in Málaga is cheaper than in nearby coastal towns and most cities in the UK. Outdoor lifestyle also makes leisure much cheaper, eating can be either very expensive or very cheap, depending on your budget.
---