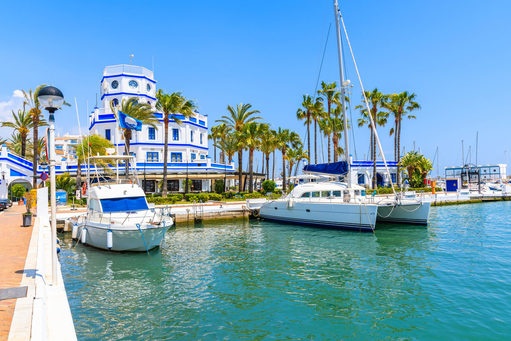 Located between mountains and the sea, Estepona is a classic Andalusian city that retains Spanish charm with access to the stunning coastline.
Located between mountains and the sea, Estepona is a classic Andalusian city that retains Spanish charm with access to the stunning coastline.
WHY MOVE TO ESTEPONA?
Pretty white houses, world-class beaches and a sophisticated atmosphere make Estepona a destination for people enjoying the best in life.
Estepona is a traditional fishing town that has become a resort with a distinctly Andalusian look. You will find yourself walking past the whitewashed buildings decorated with stunning blue and pink flowers towards the sea and past one of the many chiringuitos (beach bars) serving fresh fish and paella.
Surrounded by mountains in the Sierra Bermeja mountains, Estepona has a pleasant microclimate with around 325 days of sunshine per year. Summers will be warm and dry, and winters will be pleasantly mild, which means you will be able to make the most of the city's two blue flag beaches. The most popular is Playa la Rada in the city centre, with its modern promenade lined with palm trees.
The city life revolves around the traditional square in the centre – the pretty Plaza de las Flores is always full of people meeting on benches or in an outdoor café.
With a population of around 70,000 people, you'll find the city alive, but not tremendously. This is the place to look if you are looking for something Spanish in a traditional way, but with all the sunny benefits the region has to offer.
ESTATE
Estepona is part of the "golden triangle" in addition to the beautiful Benahavís and glam Marbella. In the old town, you will find small apartments, while the more modern surrounding areas consist mainly of newer apartment buildings. Housing stretches along the coast with a number of complexes. And if you want to create your own spectacular design, free lands with a building permit are available.
TRANSPORT
Estepona is less than an hour's drive from Malaga and Gibraltar airports in both directions. The city is connected to the surrounding region by the AP-7 route, or you can take your time and enjoy the coast along the A-7. If you're without a car, frequent connections from the bus station on the east side of town connect you to the capitals and airports.
SHOPPING
You won't found large shopping centres in the town of Estepona, but there is a number of small and medium-sized shops in the city centre. There is also a number of markets worth exploring. You can buy fresh fruit and vegetables at the traditional city market and sit in the harbour on Sunday morning at the popular Mecadill del Puerto, Aladdin's Cave of Gifts, Jewellery and Crafts.
EDUCATION
Choosing a suitable school will not be a problem. Along with Spanish state institutions, there are a number of international schools that teach in English and Spanish. Try the International School in Estepona and Colegio Bilingüe Atalaya, both about 20 minutes west of Estepona.
PUBLIC HEALTH
Estepona has excellent public health car. There is a state unit A&E, 'Ambulatorio' in the city and the main hospital in nearby Marbella. In addition, there is a selection of private specialist doctors and additional medical services.
EMPLOYMENT
Unsurprisingly, most opportunities can be found in the services and tourism sectors, while the forever evolving real estate market also has plenty of opportunities. For Spanish speakers with sales and IT experience, there are several large employers on the Costa del Sol.
COST OF LIVING
Rents and houses are generally higher at the western end of the Costa del Sol, so you can count on paying a little more for food or weekly purchases than usually.
---